This transmission electron micrograph (TEM) revealed the presence of numerous dark, bullet-shaped rabies virions within an infected tissue sample. Rabies is a preventable viral disease of mammals most often transmitted through the bite of a rabid animal. The vast majority of rabies cases reported to the Centers for Disease Control and Prevention (CDC) each year occur in wild animals like raccoons, skunks, bats, and foxes. Domestic animals account for less than 10% of the reported rabies cases, with cats, cattle, and dogs most often reported rabid.
In non-vaccinated humans, rabies is almost invariably fatal after neurological symptoms have developed, but prompt post-exposure vaccination may prevent the virus from progressing. There are only six known cases of a person surviving symptomatic rabies, and only one known case of survival in which the patient received no rabies-specific treatment either before or after illness onset!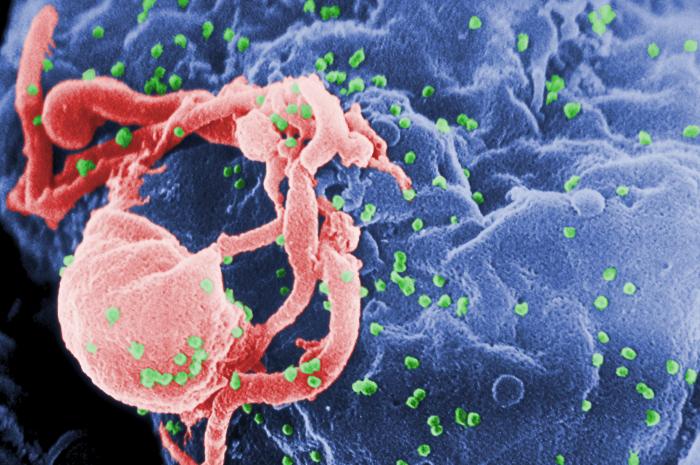 HIV
Scanning electron micrograph of HIV-1 budding from cultured lymphocyte. Multiple round bumps on cell surface represent sites of assembly and budding of virions.
Infection with HIV occurs by the transfer of blood, semen, vaginal fluid, pre-ejaculate, or breast milk. Within these bodily fluids, HIV is present as both free virus particles and virus within infected immune cells. The four major routes of transmission are unprotected sexual intercourse, contaminated needles, breast milk, and transmission from an infected mother to her baby at birth.
Screening of blood products for HIV has largely eliminated transmission through blood transfusions or infected blood products in the developed world. HIV infection in humans is now pandemic. As of January 2006, the Joint United Nations Programme on HIV/AIDS (UNAIDS) and the World Health Organization (WHO) estimate that AIDS has killed more than 25 million people since it was first recognized on December 1, 1981,
making it one of the most destructive pandemics in recorded history!
In 2005 alone, AIDS claimed an estimated 2.4–3.3 million lives, of which more than 570,000 were children. A third of these deaths are occurring in sub-Saharan Africa, retarding economic growth and increasing poverty.
According to current estimates, HIV is set to infect 90 million people in Africa, resulting in a minimum estimate of 18 million orphans. Antiretroviral treatment reduces both the mortality and the morbidity of HIV infection, but routine access to antiretroviral medication is not available in all countries.
HIV primarily infects vital cells in the human immune system such as helper T cells (specifically CD4+ T cells), macrophages and dendritic cells. HIV infection leads to low levels of CD4+ T cells through three main mechanisms: firstly, direct viral killing of infected cells; secondly, increased rates of apoptosis in infected cells; and thirdly, killing of infected CD4+ T cells by CD8 cytotoxic lymphocytes that recognize infected cells. When CD4+ T cell numbers decline below a critical level, cell-mediated immunity is lost, and the body becomes progressively more susceptible to opportunistic infections.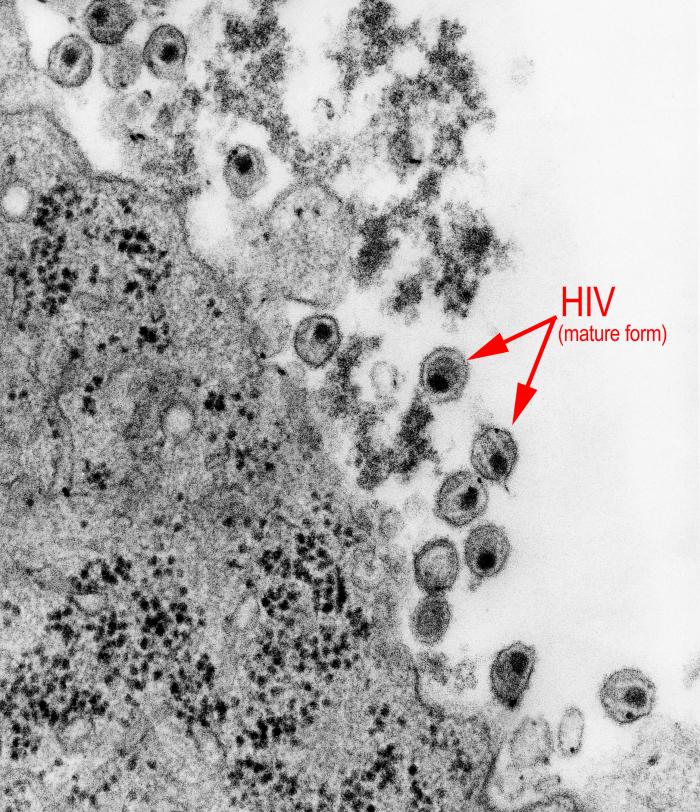 AIDS
This highly magnified transmission electron micrographic (TEM) image revealed the presence of mature forms of the human immunodeficiency virus (HIV) in a tissue sample under investigation.
The symptoms of AIDS are primarily the result of conditions that do not normally develop in individuals with healthy immune systems. Most of these conditions are infections caused by bacteria, viruses, fungi and parasites that are normally controlled by the elements of the immune system that HIV damages. Opportunistic infections are common in people with AIDS. HIV affects nearly every organ system. People with AIDS also have an increased risk of developing various cancers such as Kaposi's sarcoma, cervical cancer and cancers of the immune system known as lymphomas. Additionally, people with AIDS often have systemic symptoms of infection like fevers, sweats (particularly at night), swollen glands, chills, weakness, and weight loss. The specific opportunistic infections that AIDS patients develop depend in part on the prevalence of these infections in the geographic area in which the patient lives.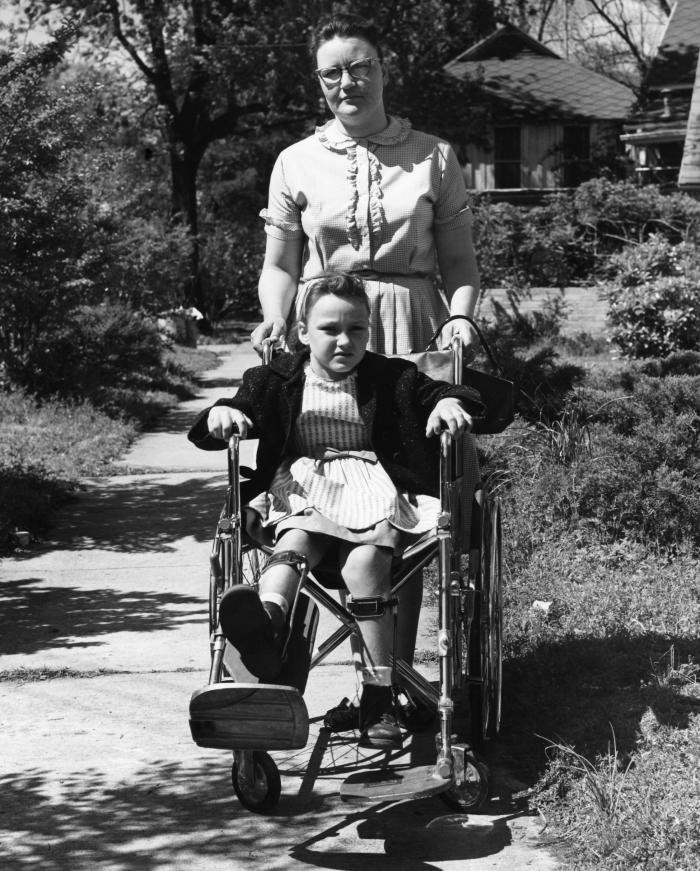 Poliovirus
Images like this were used to encourage individuals to receive polio vaccinations, which were made available in April, 1955. Thanks to the successful nationwide immunization program, parents today can rest easy knowing that polio is a preventable viral infection that is only rarely seen today.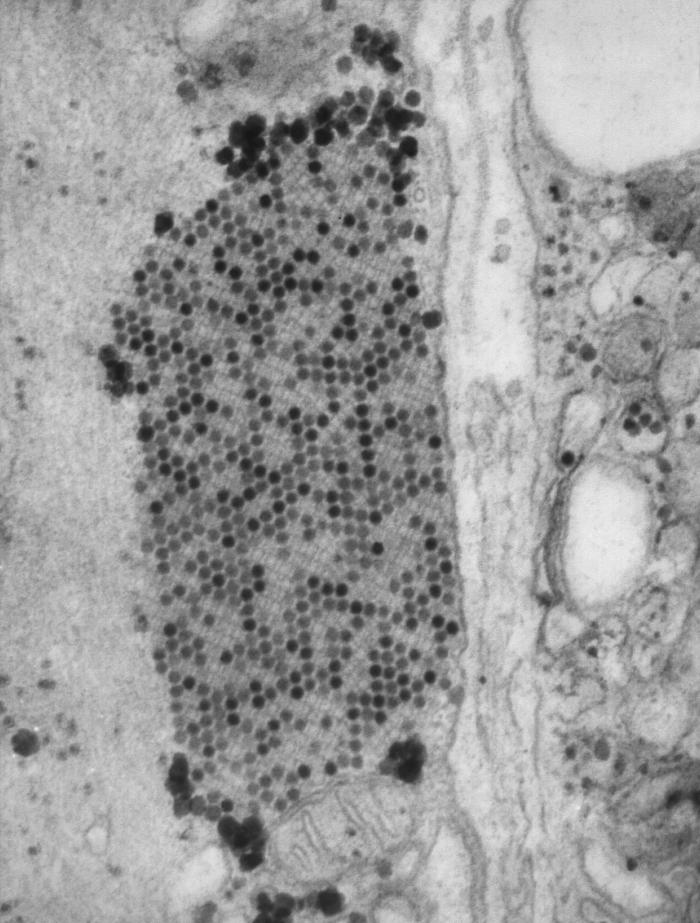 Poliovirus
This transmission electron micrograph (TEM) revealed the presence of coxsackie B3 virus particles, which were found within a specimen of muscle tissue. coxsackie B3 virus is a member of the Picornaviridae family of viruses, and the genus, Enterovirus, as is the well-known, nearly eliminated, Poliovirus.
The enteroviruses possess a positive-sense, single-stranded RNA ((+) ssRNA) genome. This virus, as is its brethren the Poliovirus and echovirus, are transmitted via the fecal-oral route, usually due to poor bathroom hygiene, i.e., not wash ones hands after deficating. The enteroviruses, therefore, are known to reside in the carrier's gut. The coxsackie B viruses is a serotypic group of enteroviruses which can cause mild gastrointestinal maladies, to frank myocarditis and, pericarditis which involves the heart, and the sac in which the heart resides within the chest.
Poliomyelitis
Poliomyelitis, often called polio or
infantile paralysis
, is an acute viral infectious disease spread from person to person, primarily via the fecal-oral route. Although around 90% of polio infections have no symptoms at all, affected individuals can exhibit a range of symptoms if the virus enters the blood stream. In fewer than 1% of cases the virus enters the central nervous system, preferentially infecting and destroying motor neurons, leading to muscle weakness and acute flaccid paralysis. Different types of paralysis may occur, depending on the nerves involved.
Spinal polio is the most common form, characterized by asymmetric paralysis that most often involves the legs. Bulbar polio leads to weakness of muscles innervated by cranial nerves. Bulbospinal polio is a combination of bulbar and spinal paralysis. Poliomyelitis was first recognized as a distinct condition by Jakob Heine in 1840. Its causative agent, poliovirus, was identified in 1908 by Karl Landsteiner. Although major polio epidemics were unknown before the 20th century, polio was one of the most dreaded childhood diseases of the 20th century in the United States.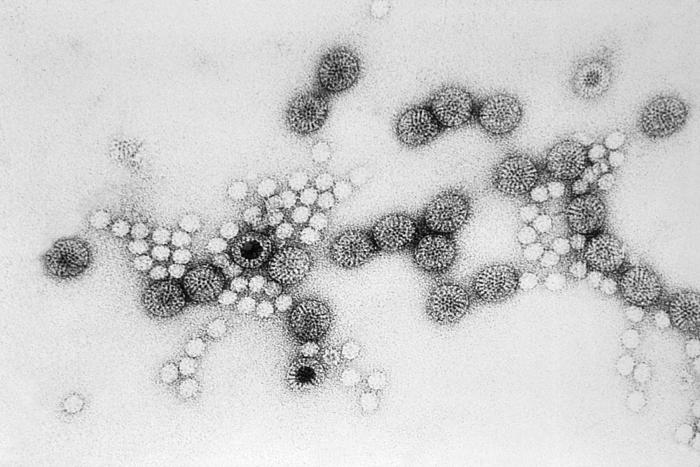 Rotavirus
This electron micrograph reveals a number of RNA rotavirus virions, and a number of unknown, 29nm virion particles. A rotavirus has a characteristic wheel-like appearance when viewed by electron microscopy, i.e., rotavirus is derived from the Latin rota, meaning "wheel". Rotaviruses are nonenveloped, double-shelled viruses, making the virus stable in the environment.
Rotavirus is transmitted by the faecal-oral route. It infects cells that line the small intestine and produces an enterotoxin, which induces gastroenteritis, leading to severe diarrhoea and sometimes death through dehydration. Although rotavirus was discovered in 1973 and accounts for up to 50% of hospitalisations for severe diarrhoea in infants and children, its importance is still not widely known within the public health community, particularly in developing countries.
More than 500,000 children under five years of age die from rotavirus infection each year, and almost two million more become severely ill. In the United States, rotavirus causes about 2.7 million cases of severe gastroenteritis in children, almost 60,000 hospitalisations, and around 37 deaths each year.
------------------------------------
All images are in the public domain or licensed under a creative commons. Thanks to wikipedia.org and cdc.gov
------------------------------------
Related posts:
.