Warning: this posts contains unpleasant images.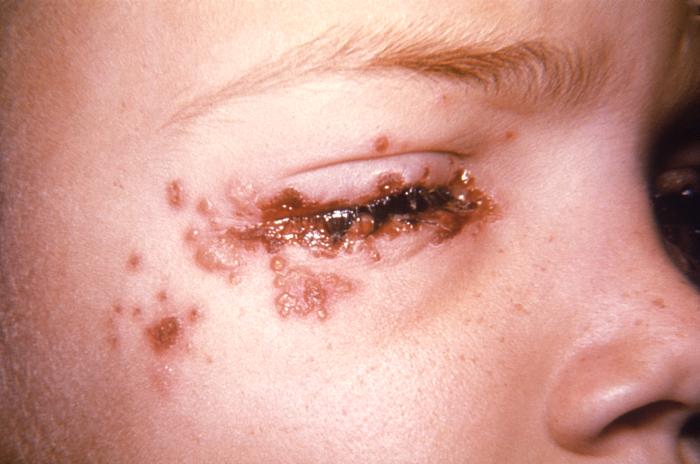 HSV

This 7yr. old child with a history of recurrent herpes labialis presented with a periocular herpes simplex vesicular outbreak.Herpes simplex virus, otherwise known as "Herpesvirus hominis" is a member of a group of viruses including those which cause oral herpes (herpes labialis), i.e., usually HSV-1, and genital herpes, i.e., usually HSV-2.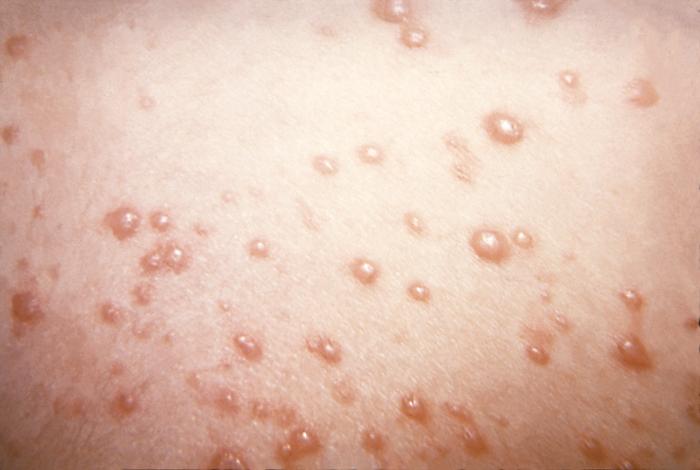 VZV

This pustulovesicular rash represents a generalized herpes outbreak due to the Varicella-zoster virus (VZV) pathogen.The VZV pathogen may lay dormant in the spinal nerve roots through a chickenpox infected individual's life, only manifesting its presence through outbreaks as Shingles, or herpes zoster. It is caused by the Herpesviridae chickenpoxvirus.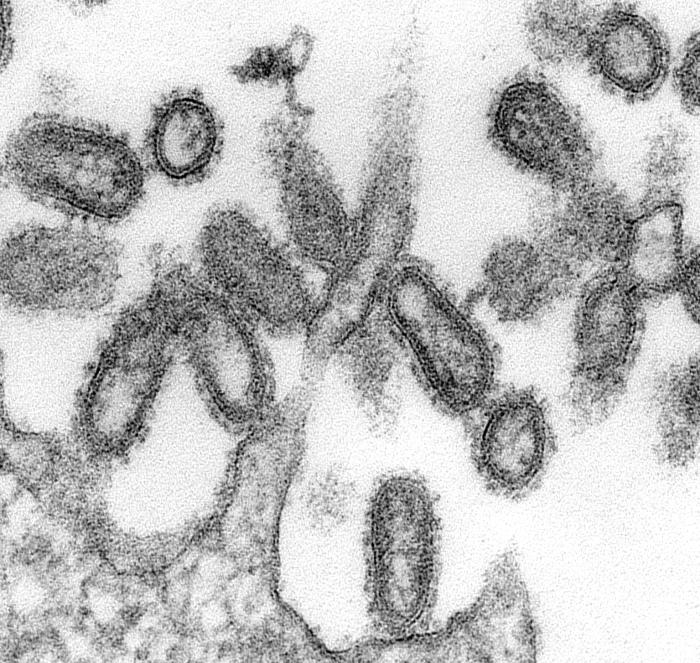 Influenza virus
This transmission electron micrograph (TEM) of an ultra-thin specimen revealed some of the ultrastructural morphologic features seen in 1918 influenza virus virions. The prominent surface projections on the virions are composed of either the hemagglutinin, or neuraminidase type of glycoproteins. Composed of what looked like dots or tubules, was a dense envelope known as a "capsid", which surrounded each virion's nucleic acid constituents.
The flu is a contagious respiratory illness caused by influenza viruses. It can cause mild to severe illness, and at times can lead to death. The best way to prevent this illness is by getting a flu vaccination each fall. Every year in the United States, on average:- 5% to 20% of the population gets the flu;- more than 200,000 people are hospitalized from flu complications, and;- about 36,000 people die from flu. Some people, such as older people, young children, and people with certain health conditions, are at high risk for serious flu complications.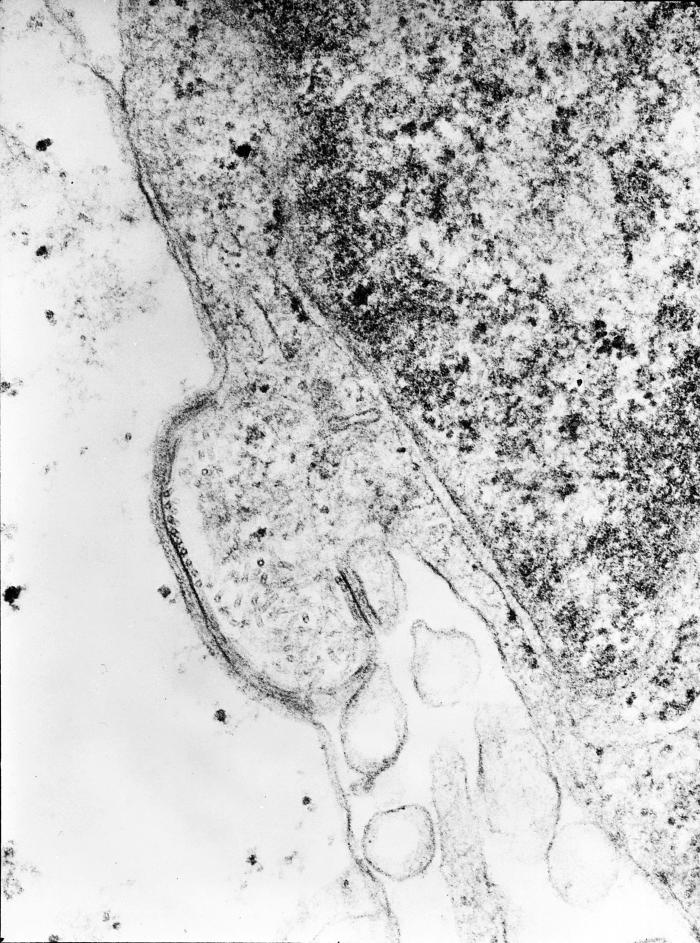 Common cold
This transmission electron micrograph (TEM) revealed the presence of the human parainfluenza type 4A virus (HPIV-4A), which like the mumps virus, is also a Paramyxoviridae family member, and a member of the genus, Rubulavirus. The parainfluenze virus is the cause of a flu-like respiratory infection in humans, very similar to, but not as severe as the flu. Once seen by a physician, a diagnosis of parainfluenza requires treatment of the symptoms, without the requisite antibiotics, which will have no direct affect upon the virus. Symptoms can include mild flu-like symptoms such as a sore throat, cough, upper and/or lower respiratory tract illness, and bronchitis.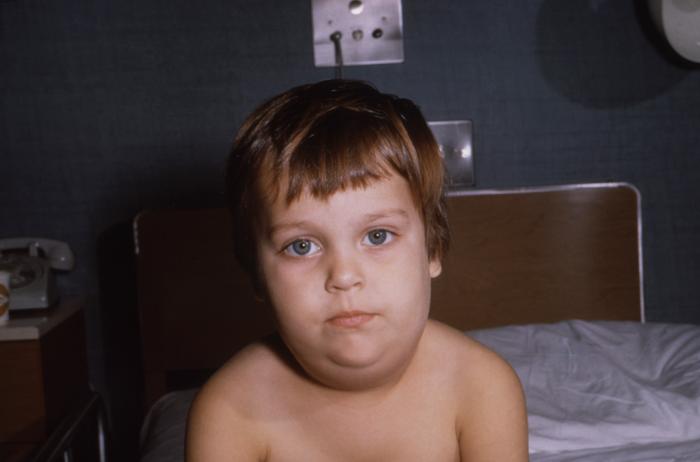 Mumps

This child's face is displaying diffuse lymphedema of the neck due to a mumps virus infection of the parotid salivary glands. Prior to vaccine licensure in 1967, 100,000 to 200,000 mumps cases are estimated to have occurred in the United States each year. Incidence declined to approximately 5,000 cases per year during the period from 1980 to 1990.
Painful swelling of the salivary glands (classically the parotid gland) is the most typical presentation. Painful testicular swelling and rash may also occur. While symptoms are generally not severe in children, the symptoms in teenagers and adults can be more severe and complications such as infertility or subfertility are relatively common, although still rare in absolute terms. The disease is generally self-limited, running its course before receding, with no specific treatment apart from controlling the symptoms with painkillers.
Rubella
The young boy pictured here, displayed the characteristic maculopapular rash indicative of
rubella
, otherwise known as
German measles
, or 3-day measles.
Rubella
is a respiratory viral infection characterized by mild respiratory symptoms and low-grade fever, followed by a maculopapular rash lasting about 3 days. In children there may be no significant respiratory prodrome and the illness may not be diagnosed since the rash may be mild and mimic other conditions. It is estimated that 20-50% of infections are subclinical. Complications occur more frequently in adult women, who may experience arthritis or arthralgia, often affecting the fingers, wrists and knees. These joint symptoms rarely last for more than a month after appearance of the rash.
The rubella vaccine is a live attenuated (weakened) virus. Although it is available as a single preparation, it is recommended that in most cases rubella vaccine be given as part of the MMR vaccine (protecting against measles, mumps, and rubella). MMR is recommended at 12-15 months (not earlier) and a second dose when the child is 4-6 years old (before kindergarten or 1st grade). Rubella vaccination is particularly important for non-immune women who may become pregnant because of the risk for serious birth defects if they acquire the disease during pregnancy. Birth defects if acquired by a pregnant woman: deafness, cataracts, heart defects, mental retardation, and liver and spleen damage (at least a 20% chance of damage to the fetus if a woman is infected early in pregnancy).
Measles
Measles is a disease caused by a virus, specifically a paramyxovirus of the genus Morbillivirus.
'German measles' is an unrelated condition caused by the rubella virus
. Measles is spread through respiration (contact with fluids from an infected person's nose and mouth, either directly or through aerosol transmission), and is highly contagious. Airborne precautions should be taken for all suspected cases of measles. The incubation period usually lasts for 4–12 days (during which there are no symptoms). Infected people remain contagious from the appearance of the first symptoms until 3–5 days after the rash appears. In roughly the last 150 years, measles has been estimated to have killed about 200 million people worldwide. In 1954, the virus causing the disease was isolated from an 11-year old boy from the US, David Edmonston, and adapted and propagated on chick embryo tissue culture. To date, 21 strains of the measles virus have been identified. Licensed vaccines to prevent the disease became available in 1963.
--------------------------
All images are in the public domain or licensed under a creative commons. Thanks to cdc.gov and wikipedia.org

--------------------------
Related posts:

.